21.06.2023
Laurent BOUYSSOU in charge !
Laurent Bouyssou, always too humble, joined TOWT 4 years ago, and he has clearly more than contributed to imagining and designing the ship. The #SailingCargoShip is a bit like his baby!
As fleet manager, Laurent is in charge of everything to do with construction, operations, sailors, etc. Based on the 45th parallel, Laurent supervises the various shipyards on the high seas, while continuing to sail between Le Havre and Concarneau.
Laurent explains, in perfect English, in this interview from early June, that we're just about half way through the construction process, that all the steel is there and that things are really taking shape 🙂
Already, it's Concarneau that is on everyone's mind, as the towing becomes more precise and we should see the bow of the big raft rounding the Point de Trévignon well before the 31st of August!
Of course, "We have very often requests for crew members coming from other companies because people want to participate to decarbonisation and look after the Earth and the future of their children.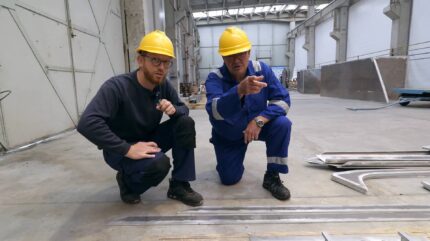 Watch video